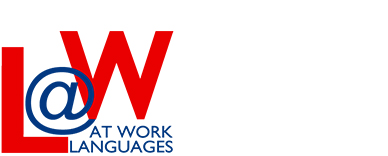 EXPORTING YOUR GOALS ABROAD
MORE THAN 30 TEACHERS – 40 TRANSLATORS – 30 TRANSLATED LANGUAGES
Languages at Work offers multi-level linguistic services for companies that already carry out their activities in the international market or who aim to expand, to professionals who need to deepen their knowledge of one or more languages to grow their business abroad and to individuals wishing to improve the knowledge of a foreign language for general purposes or to apply it in specific fields.
TAILOR-MADE COURSES
They design a personalized training program with the customer, which combines different study and learning methodologies, creating the PERFECT BLEND.
• standard general language courses
• blended courses that mix different methodologies
• tailor-made courses
• full immersion courses
• programs for the acquisition of particular skills – simulation
• listening development
• telephone training
• conversation courses
• preparation for international certifications, etc.
Individual or group courses. All year round at flexible hours at the company headquarters, in the classroom or remotely.
They can also deal with FINANCED TRAINING plans, accompanying the Client in all the steps of the path.
WORKSHOP AND SEMINARS
These events can be an additional solution to a company course or stand-alone events, organized to deepen specific issues and develop particular skills.
TRANSLATION AND INTERPRETING
They work with mother tongue translators from all over the world selected for specific sectors for an accurate and timely result. Their high quality interpreting service helps the Client to establish successful intercultural business relationships.
CORPORATE HOSTING
Their Corporate Hosts receive and accompany guests on company visits, guaranteeing a discreet and capable presence.
MANAGERIAL TRAINING
They offer coaching training services, soft skills development and mentoring courses aimed at developing human capital in the company, thanks to the support of qualified ICF coaches and professional mother-tongue trainers.
SOS LANGUAGE ON DEMAND
A series of complementary services for truly complete assistance. You can buy packages and subscriptions tailored to your needs. The most requested services: Email Services, Telephone Services, Help Desk.